About Company
Screw Excellency – Made in Taiwan
Founded in 1999 by Spencer Wu, Taikyu Co., Ltd. is an expert on the manufacturing of connecting components. With more than one decade of experience in the production of fasteners as well as the development of customized and high innovative coatings, Taikyu Co., Ltd. has become a well established and renowned company in Taiwan as well as Asia.
The company's headquarter is situated in Southern Taiwan, close to the important seaport of Kaohsiung. Apart from our headquarter in Kaohsiung City and production facilities in whole Taiwan, Taikyu Co., Ltd. puts much stock on its international orientation. In recent years we opened branch offices in Tokyo, Japan and Beijing, China. We believe that thanks to subsidiaries in and around Taiwan, we can ensure top quality and satisfy the demands of our customer better. Our concept seems to be proven right, as we hold a total market share of 35% for constructional fasteners in Japan. This rapidly growth in market shares makes us to one of the most influential suppliers of connecting components in Asia and underlines our ambition to satisfy customers all over the world.
As one of the few companies in the fastening industry, we have the production capacity to execute all of the necessary productions steps by ourselves. This independence from external suppliers is advantageous out of two reasons:
We are able to guarantee you a constant immaculate quality as well as we can rule out delays in delivery.
One of our core competencies is our special surface treatment procedures, which are not only chrome-free and resistant to corrosion, but they are also in line with Japanese, American as well as European safety standards. As Taikyu Co., Ltd. offers its customers a wide and multifaceted range of products, our components are supplied to industrial sectors of all kinds. The lion share of products, however, is conceived for the construction sector. Our customers range from well renowned multinational enterprises to small sub-suppliers. No matter which size your company has, you can be ensured that we will not only meet, but even exceed your expectations.
Despite our expertise in the manufacturing of fasteners, our main focus is and will always be on you, our customer!
Apart from alluring prices, we guarantee you highly sophisticated products, whose size, design, color and coating can be customized according to your individual needs and preferences. This well-balanced combination of quality, price and customer orientation is the explanation for our success and your contentedness.

TAIKYU CO., LTD.

TAIWAN

No. 112, Jhongshan S. Rd., Lujhu Dist., Kaohsiung City 82151, Taiwan

886-7-6960081

886-7-6969921

Please Login

Certification

CE , ISO-9001 , JIS B 1125:2003

News

2017-09-28&nbsp

2017/10/18~19. We will attend "National Industrial Fastener &nbsp

Overseas Factory / Branch

No Data



Main Product
Chipboard Screws
Drywall Screws
Flange Washer Head Screws
Self-drilling Screws
Collated Screws
Socket Set Screws
Machine Screws
Chromium-free Coating
Tapping Screws
Metric Bolts
Customized Special Screws / Bolts
Concrete Screws
Building Parts
Deck Screws
High Low Thread Screws
Self-Tapping Screws
Thread Rolling Screws
Wood Screws
Construction Fasteners
Roofing Screws
Hexagon Head Bolts
All Kinds of Screws
Hexagon Washer Head Screws / Bolts
Color-coated Screws
Countersunk Screws
Knurled Head Screws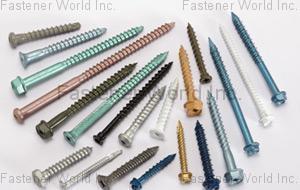 Bolts + Machine ScrewsSpecial Feature CoatingStampingsCollated & Strip ScrewsWire-Collated Coil NailsNails
Roll & Collated Screws
Bolts + Machine Screws
Stampings
Special Feature Coating
Wood Construction 2x4, 2x6
Collated & Strip Screws, Wire-Collated Coil Nails, Stampings, Special Feature Coating, Bolts + Machine Screws
Coated Screws
Roll & Collated Screws, Wire-Collated Coil Nails, Nails, Stampings, Bolts + Machine Screw, Special Feature Coating
Nails, Stampings, Drywall Screws, Chipboard Screws, Self-Tapping Screws, Self-Drilling Screws, Machine Screws, DIN Screws, Special Coating, Stainless Screws, Masonry Screws
Stamping & Pressing,Metal Folding, Collated & Strip Screw, Coated Screw for Wood and Sheet Metal, Bolt, Nut, Stainless Steel Screw, Coil Nail, Hinges, hanging sliding door, Embed Folding, door stop, compartment mobile storage system, sealing strip
Stamping & Pressing,Metal Folding, Collated & Strip Screw, Coated Screw for Wood and Sheet Metal, Bolt, Nut, Stainless Steel Screw, Coil Nail, Hinges, hanging sliding door, Embed Folding, door stop, compartment mobile storage system, sealing strip
Constructional Fasteners, Collated Screws
Collated Nails, Coil Nails
DIN Screws
Roll & Collated Screws, Nails & Collated Nails, Stampings, DIN Screws, Bolts, Machine Screws, Special Feature Coating
DIN Screws
DIN screws
Special coating
Stamping
Nails
Bolt and machine screws
Collated screws
Roll & Collated Screws, Wire-Collated Coil Nails, DIN Screws, Stampings, Bolts, Machine Screws, Special Feature Coating