About Company
JC Grand is a manufacturer and exporter of industrial fasteners and metal hardware components. Since 1978, JC Grand has been serving customers globally with an extensive line of high quality screws, nuts, bolts, washers, anchors, and customized hardware products from its wholly-owned factories in Taiwan and China. All of our locations are ISO 9001 certified, and singularly focused on delivering products and services of exceptionally consistent quality to our clients worldwide. Whether you are an industrial manufacturer, OEM or wholesale distributor, professional contractor supplier, or retail operation, we understand your needs and have the experience and capability of consistently meeting them. NEW! Please visit our new ferrous alloy heat treatment plant in Kaohsiung Taiwan. Operations began January, 2013.

J.C. GRAND CORPORATION (JC)

TAIWAN

10F, NO.200, SUNG CHIANG ROAD, TAIPEI, TAIWAN

886-2-25223248 

886-2-25365500 

Please Login

Certification

A2LA , CE , IATF16949 , ISO-9001

Overseas Factory / Branch

Company Name:

KC HARDWARE CORPORATION&nbsp



Main Product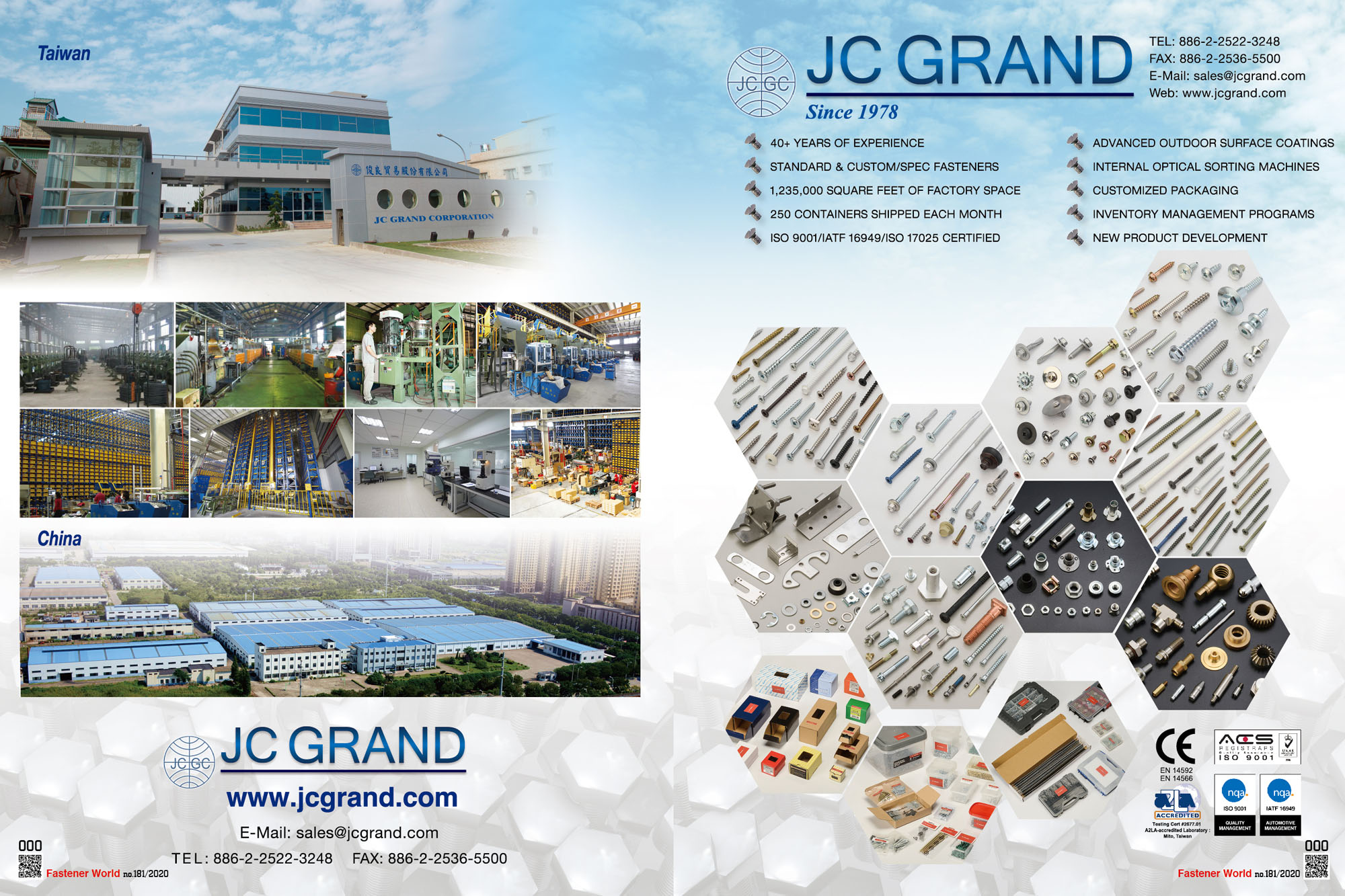 Screw pulous PrecisionWood Screws, Machine Screws, Self Tapping Screws, Drywall Screws, Chipboard Screws, Hex Head Bolts, Carriage Bolts, Hex Lag Screws, Flange Bolts, Socket Head Cap Screws, Hex Nuts, Hex Thin Nuts, Hex Slotted Nuts, Nylon Insert Nuts, Weld Nuts, Wing Nuts, T Nuts, Cap Nuts, Flat Washers, Spring Lock Washers, Fender Washers..., Square Washers, Cotter Pin, Rivet..., Stud, Thread Rod, Eye Bolts, Eye Nuts, Furniture Screws, Hanger Bolts, Toggle Wing, Stamping Parts, Construction Anchor, Special and OEM Parts...
Screws
Bolts
Drywall Screws
Self Tapping Screws
Screws/Nuts/Bolts/Rivet
Bolt
Product name (Key word)
Wood Screws
Machine Screws
Chipboard Screws
Hex Head Bolts
Carriage Bolts
Flange Bolts
Hex Nuts
Hex Thin Nuts
Hex Slotted Nuts
Nylon Insert Nuts
Weld Nuts
Wing Nuts
T Nuts
Cap Nuts
Flat Washers
Spring Lock Washers
Fender Washers
Square Washers
Hanger Bolts
Construction Anchor
OEM Parts
Concrete Screw
Self Drilling Screw
SEMS Screw
Sheet Metal Screw
Sems Screw
Tri-Screw
Rivets
Hi-Lo Screws
Self Dry Screws
Drywall Screw
Double Thread Bolt
Tapping Screws
All Kinds of Screws