About Company
SRC, established in 1983, specializes in manufacturing blind rivets, blind rivet nuts and riveting tools. With two ISO 9001 certified facilities in mainland China, we manufacture 6000 million blind rivets and 200,000pcs high-quality riveters annually, leaving no doubt that we can cover your largest, most demanding orders. SRC products are ideal for fastening various materials with wide assembly application for building, automotive, aviation, and electronics industries. SRC products are designed according to the international standards and easily get access to various hand or air riveting tools for best performance. Your support is necessary for our growth. Hope you can find whatever you need at SRC.

SPECIAL RIVETS CORP. (SRC)

TAIWAN

NO. 699, FUKE ROAD, SITUN DISTRICT, TAICHUNG 40764, TAIWAN .

886-4-24623555 

886-4-24621777 

Please Login

Overseas Factory / Branch

Company Name:

SRC METAL (JIASHAN) CO., LTD.&nbsp

Tel:

86-573-8911-7888&nbsp

Fax:

86-573-8911-7755&nbsp

Address:

No. 117 Chenggong Road, Jiashan Development Zone, Zhejiang 314100, China &nbsp



Main Product
Blind Rivets
Flat Head Rivets
Hand Riveters
Blind Nuts / Rivet Nuts
Closed End Rivets
Hand Rivet Tools, Hand Rivet Nut/rivet Bolt Tools, Air Hydraulic Rivet
Multigrip Rivets
Painted Rivets
Countersunk Rivets
High Strength Rivets
Rivet Nut Tools
Structural Rivets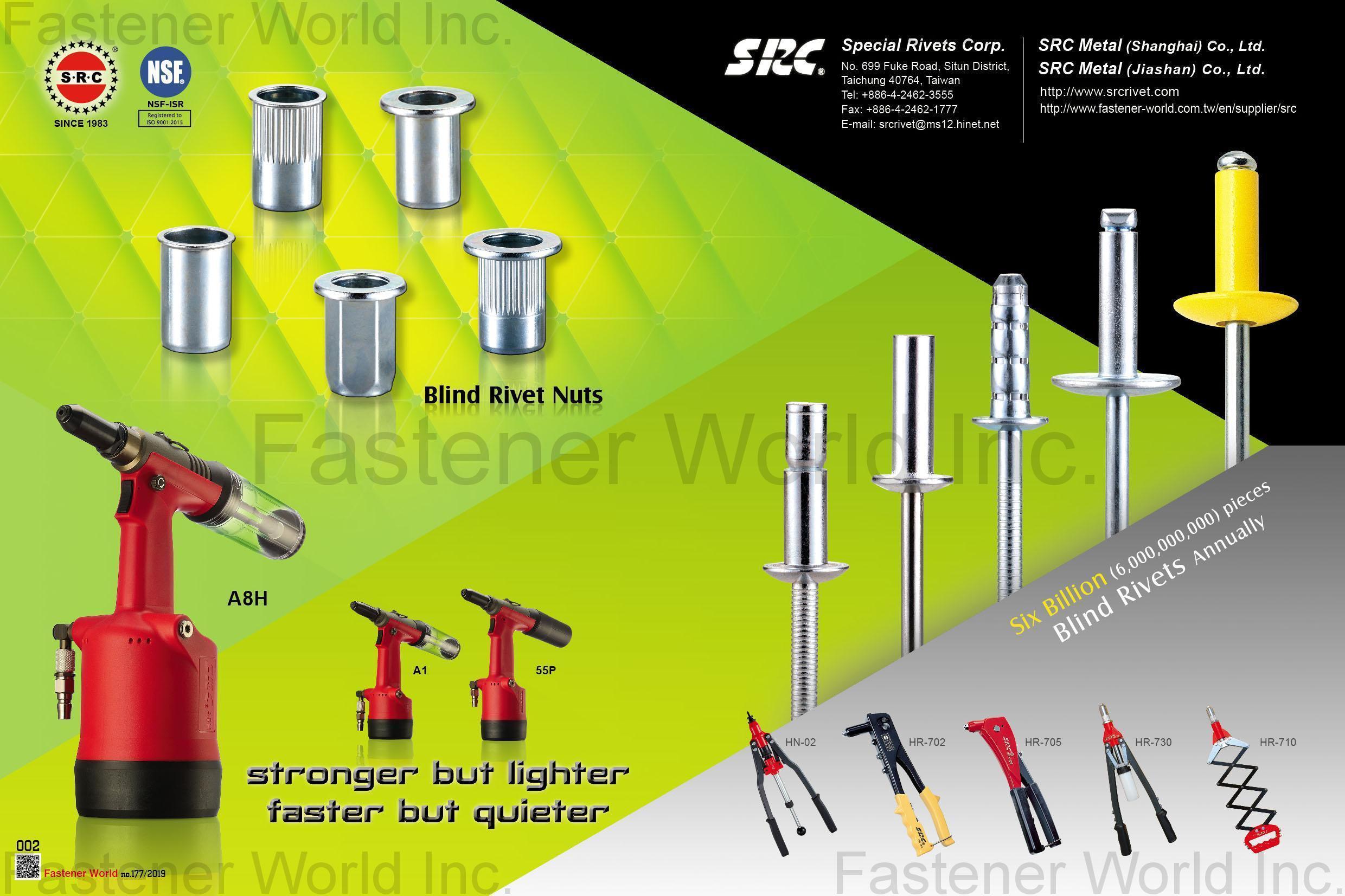 Excellent Quality & Reasonable Price!Six Billion (6,000,000,000) Blind Rivets Annually Blind rivets are supplied in Aluminum, Steel, Stainless Steel, Copper and Monel materials available in various types including Peel, Large flange, Multi-Grip, Closed end & High Strength. Steel blind nuts are supplied in flat and reduced heads available in cylinder & hexagon types. Manual/pneumatic riveting tools for blind rivets and blind nuts
Blind Rivet Nuts
Pneumatic Riveters
Aluminum Blind Rivets
SRC Hand Riveter
Blind Rivets
Blind Rivet Nuts
Closed End (Sealed) Blind Rivets
Countersunk Head Blind Rivets
Multigrip Type Blind Rivets
Stainless Steel Blind Rivets
Large Flange Type Blind Rivets
Steel Blind Rivets
Pneumatic/Hydraulic Air Riveters
Peel Type Blind Rivets
Monel Blind Rivets
Grooved Blind Rivets
High Strength Structural Blind Rivets
Color Painted Blind Rivets
Hand Rivet Nut Tool
Heavy Duty Hand Riveter
Hand Riveter
Heavy Duty Hand Riveter
Blind Rivets, Superior Air Riveter