About Company
HSIN HO MFG. CO., LTD. established in 1976, With professional technique to manufacture complete series of P.A.T. products in Taiwan.
The main products are as follows:
POWER LOADS:
DRIVE PINS:
POWDER ACTUATED TOOLS:
ANCHORS:
Diligent for many years, our products and business have expanded to world wide, both domestic and international markets. We have earned favorable comments and trust from customers. We keep running the quality improvement, and developing new items, In 1998 we have obtained ISO9001 certificate.
HSINHO MFG CO., LTD. always offer the best service to our customers and take all the responsibility of our products. If there is any demand or request, welcome to contact us any time.

HSIN HO MFG. CO., LTD.

TAIWAN

NO.43, ALLEY 27, LANE 372, SEC. 5, ZHONGXIAO E. RD., TAIPEI, TAIWAN

886-2-27232931

886-2-27253016

Please Login

Overseas Factory / Branch

No Data



Main Product
Masonry Nails
Drop-in Anchors
Flat Washers
Insulating Washers
Collated Nails
Flat Head Nails
Plastic Flat Washers
Anchors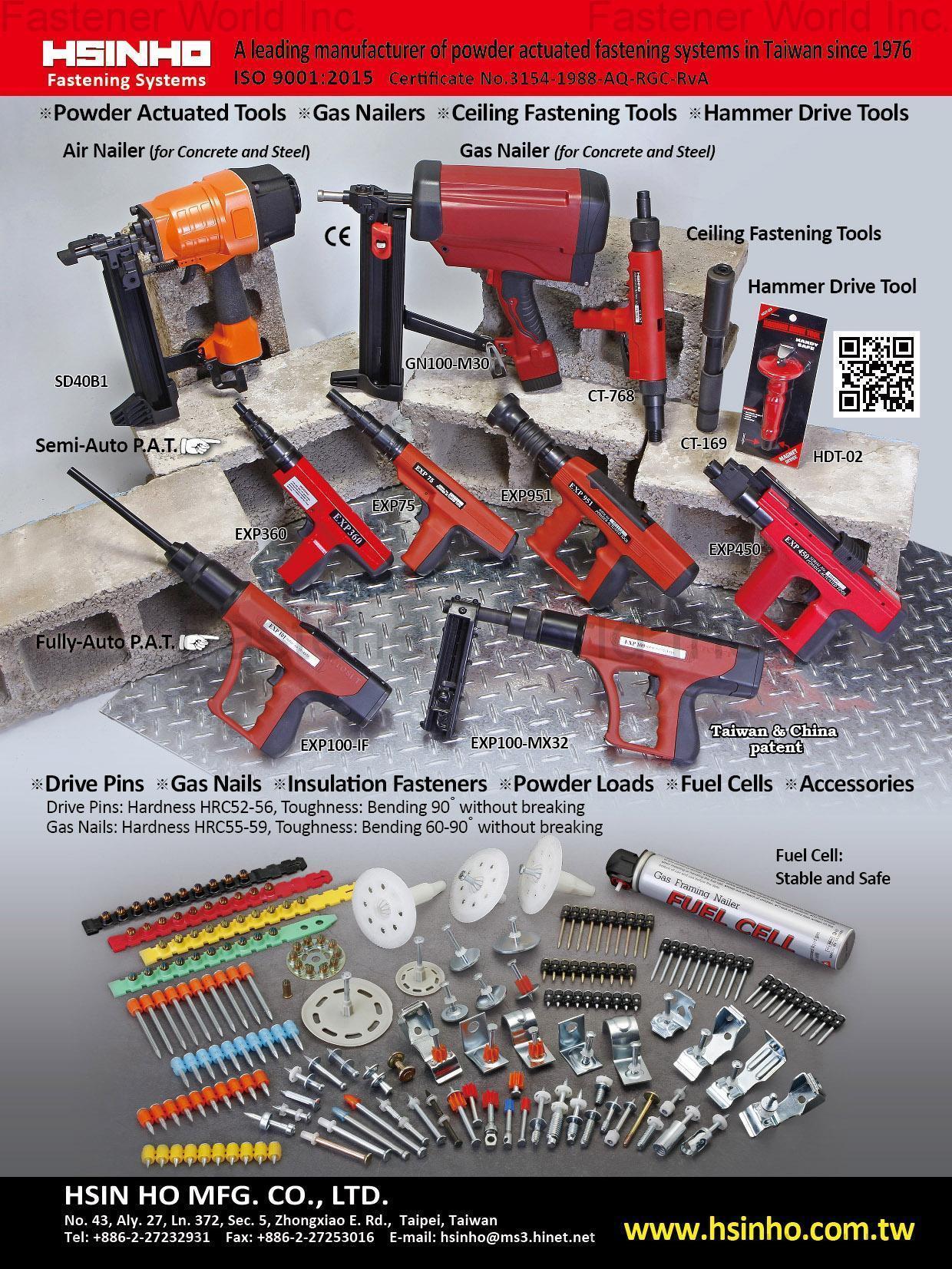 POWDER ACTUATED TOOLS
DRIVE PINS, MASONRY NAILS
Anchors
POWER GUNS
Powder Actuated Tool
Power Loads
Gas Fuel Cell & Gas Pin for Gas Tool
Special Pins
Accessories
Hex Nut
flat head washered pins
flat head pins
Drive Pins, Gas Nails, Insulation Fasteners, Anchors, Power Loads (CE mark available), Accessories, Powder Actuated Tools, Gas Nailers, Ceiling Fastening Tools, Hammer Drive Tools
Powder Actuated Tools, Gas Nailers, Ceiling Fastening Tools, Hammer Drive Tools
Powder Actuated Tools, Gas Nailers, Ceiling Fastening Tools, Hammer Drive Tools, Drive Pins, Gas Nails, Insulation Fasteners, Anchors, Powder Loads, Fuel Cells, Accessories