About Company

HEY YO TECHNOLOGY CO., LTD.

TAIWAN

NO.43, LN. 115, SHENLIN S. RD., DAYA DIST., TAICHUNG CITY 428, TAIWAN

886-4-25665113

886-4-25604335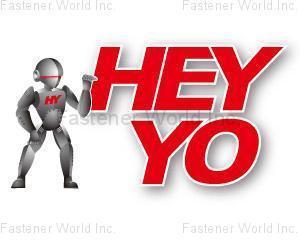 MANUFACTURER / EXPORTER

Please Login

Hey Yo was established in 2013 in Daya Dist. of Taichung City, Taiwan. Dedicated to producing precision pins / rollers / dowel pins , Hey Yo adopts specialized equipment to automate production and achieve maximum capacity. Additionally, the company has the advantage of sufficient inventory to support customers' immediate request and demand for high-mix/low-volume products. Besides that, it is capable of customized manufacture and R&D. From material handling to milling, grinding, electroplating, and finally the finished products, each step is under stringent quality control to offer buyers full-fledged service.


 Precision Pin / Roller / Dowel Pin 精密滾針/滾柱/插銷/固定銷
Hey Yo's precision pins are made mainly in SUJ2 and SUS 304 (stainless steel). These pins are extremely price competitive because Hey Yo uses specialized machines to automate production. Additionally, the company has a sufficient regular stock of SUJ2 Pins in M2-M12 diameters and 4-40mm lengths as shown in the following table. Its regular spare parts have no restriction on minimum purchase volume, and can meet clients' demand for high-mix/low-volume purchase. Furthermore, they come at an affordable price and can be shipped shortly, making it significantly convenient and time-saving on clients' purchase.


 Capable of Customized Production and R&D
Through effective communication, Hey Yo understands what clients really need. Therefore, all processes from material handling, machining, grinding to the final products are strictly monitored to present high precision products available in 0.5mm-32mm diameters, 2mm-200mm lengths and up to 3μm maximum precision level. "We put our emphasis on effective communication and mutual understanding to reduce unnecessary standoff and misunderstanding on designs". Ultimately, we want to provide clients with products that they think is a bargain and affordable, and satisfy their demand," said president Mr. Gary Chang.


~All in One, Total Solution, One-stop Shopping~
    ~The Best Agent You've ever Met~

To further complete its service for clients, Hey Yo combines forces with numerous premium suppliers, reducing production cost and improving product quality through work specialization. Chang said, "Only few companies like us are willing to collaborate with other competitors. We pursue integration of resources and offer clients one-stop service. We fulfill the spirit of synergy to boost the reputation of products made in Taiwan!"

Chang thinks every industry is built on accumulating specified knowledge. Coupled with years of machining profession, Hey Yo partners with the right companies to do the right things. "Despite our humble scale, we are young and energetic, full of ideas, and able to solve problems for clients." Within only 4 years, Hey Yo has doubled its revenues to break the NTD 10 million mark in 2017 through niche market strategy. Its rapid corporate growth has made us excited to see the company set another milestone in the near future!

...