About Company
Bestai Enterprise Co., Ltd. was founded in 1989 and is involved in the business of cold forming parts and automated CNC controlled high precision turned parts with various kinds of ferrous and non-ferrous materials. We focus on manufacturing of non-standardized screws, bolts, nuts and rivets. Most of our production is produced according to customer's designs that are for particular application.Operating as a subcontractor for various industrial sectors, BESTAI is looking forward to receiving sample or drawings of your requirement for our quoting. With providing our quality products and satisfactory services, we are keenly turning to be your reliable supplier on the related parts.Please contact us now!!!

BESTAI ENTERPRISE CO., LTD.

TAIWAN

2ND FL., NO 16-1, LANE 512, SEC. 4, JEN-AI RD., TAIPEI, TAIWAN 110

886-2-87894926

886-2-87894925

Please Login

Overseas Factory / Branch

No Data



Main Product
Precision Metal Parts
Forged And Stamped Parts
Automotive Parts
CNC parts, CNC lathe
Special Cold / Hot Forming Parts
Custom Bolts
Hexagon Head Bolts
All Kinds of Screws
Customized Special Screws / Bolts
Brass & Bronze Screws
Stainless Steel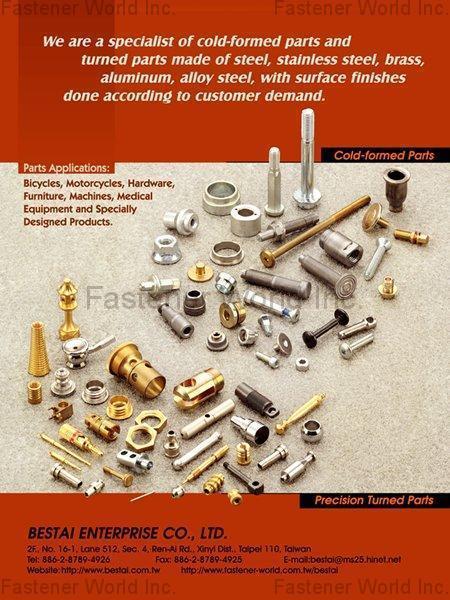 We are specialist of cold-formed parts and turned parts made of
steel, stainless steel, brass, aluminum, alloy steel, with surface
finishes done according to customer demand.
Part Applications:
Bicycles, Motorcycles, Hardware, Furniture, Machines, Medical Equipment and Specialty Designed Products.

Precision Turned
Cold-fromed Parts
Special forged parts
Rivets
High precision turned parts
Nuts
Precision and reliable fasteners from turning, cold forging, stamping and powder metallurgy.